Feature Article in Niche Magazine, Spring 2022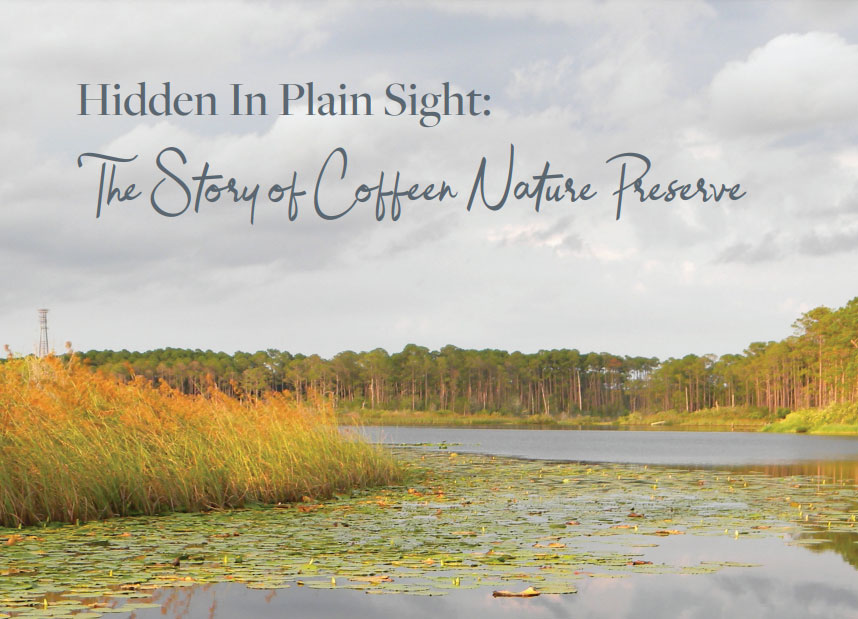 Tucked just out of view off Highway 98 between Tops'l Resort and Topsail Hill State Park, you'll find the entrance to a veritable wonderland of nature and wildlife. It's a rarity to see so much "green" in an area that has become not just one of the fastest-growing counties in Florida but in the United States. And, that's just how its creators intended it.
Coffeen Nature Preserve comprises 230 acres of natural forests with sand pines, live oaks, southern magnolias and pignut hickory trees, but its hidden treasures don't stop there. A 40-acre freshwater lake as well as swamps, bogs and wetlands await along with a variety of wildlife including deer, fox, bobcats, armadillos, wild turkeys, various birds and yes, even alligators. The area is also home to Four Mile Village, an exclusive — and private — development of residential homes.
"It is a place where nature can take precedence over the superficial, and where those who can appreciate nature in her
various moods and forms can find a haven," those were the words of Dorothy Coffeen, who along with her husband, John, are the namesakes of the nature preserve.
To read more, view Niche Magazine's Spring 2022 Issue or download the article PDF here.