George Quigley Langstaff, Jr., a beloved man who loved his family without end, passed away on January 3, 2022, after 96 plus years of life! He was buried on January 9, 2022, in Paducah, Kentucky, his birthplace and family home. As a family we are forever grateful for the wonderful caregivers at the Rutherford Memory Care in Murfreesboro and for his sitters who were so important to his length of life.
George spent his early years becoming a student athlete and leader. After graduation from Paducah Tilghman High School, he served a three-year stint in the Navy. During these assignments he was enrolled at Emory University, University of South Carolina where he played football and met his future wife Mickey Black, the United States Naval Academy, and finally University of the South at Sewanee, where he was a Sigma Nu, graduating in 1948.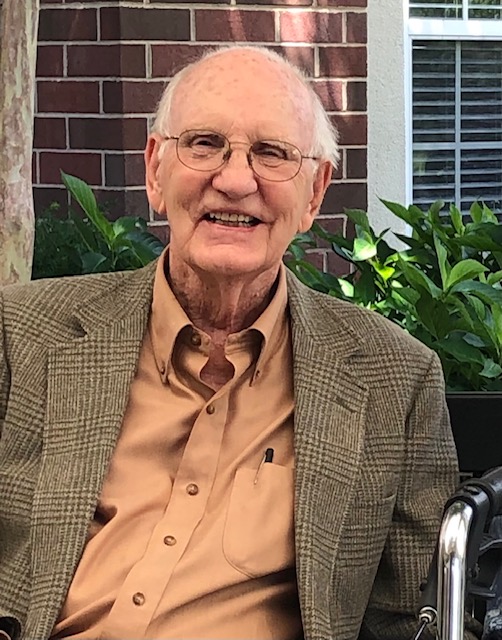 His life's work was a career in the shoe industry leading him to General Shoe, now Genesco. Here he worked in various capacities, even starting a very successful shoe line called Charm Step. After retiring as Executive Vice President, General Manager of Genesco Footwear, he worked for several years for Footwear Industries of America in Philadelphia and as a consultant for Wolverine Worldwide in Rockford MI.
True retirement led him to wear many new hats. Among them he became a gentleman farmer and cattle rancher in Williamson County TN, loving the cattle more than making them a business. His continued love for the beach lands in Walton County FL led him to another moment which became one of his proudest: helping spearhead a drive to save the 18,000 acres of coastal and non-coastal timber land in South Walton County. The property has become Topsail Hill Preserve and is forever protected from commercial development and preserved for nature.
George was devoted to his faith and his church, St. George's Episcopal, where he served on the vestry for five terms as well as senior warden for three terms. Community outreach was a joy for him. He volunteered for Boys Scouts, Nashville Mental Health Association, Junior Achievement, as well as founding THE SPONSORS Scholarship Program which mentored students and provided financial assistance during their college years.
George kept busy using his gifts and talents until after he turned 92. He became an author, both by transcribing and publishing his family's Quigley journals and by penning his autobiography, The Crossroads of a Wonderful Life. Perhaps one of his greatest gifts was helping to get young adults headed to financial security…his handwritten legal pads of strategies and counseling sessions with his grandchildren about the strategies were legendary! His length of years may be related to his passions for tennis, jogging, and golf. George's canoeing skills were excellent, both as a paddler and as a re-builder of a 1920's childhood canoe. His family finds great joy in realizing how well lived his life had been.
George was predeceased by his parents, George Quigley and Katherine Irion Langstaff, and brothers Witt and Quint Langstaff and his son-in-law Charles Poole. He is survived by his wife of 75 years Maureen Black Langstaff; his daughters Trish Poole, Lynne Frederick (Steve), and Kathy Stockman (George); six grandchildren, twelve great grandchildren, as well as nieces, nephews and cousins who loved him so.
In lieu of flowers he would have been pleased to have contributions made in his memory to The Sponsors (Community Foundation of Middle TN Box 440225 Nashville TN 37244), St. George's Episcopal Church, Nashville TN, Grace Episcopal Church, Paducah KY, or the charity of your choice. A celebration of his life will be held at St. George's Episcopal Church on Saturday, March 5 at 11:00 with Rev. Richard Kew and Rev. Tim Taylor officiating. The family will gather at 10:00 for visitation before the Celebration of Life.